Barnes Corse at the fair of Porto Vecchio
An event always expected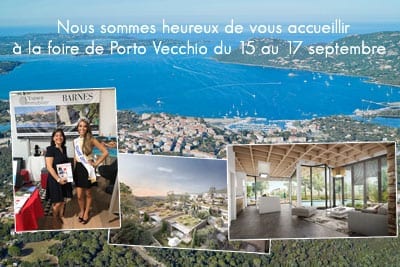 Our agency is pleased to be present this year for the 11th edition of the Porto Vecchio Fair 2017, an event that aims to bring together professionals and communities with the public, always more numerous from one year to the next. other, customers or curious.
Un week end sous le thème de l'artisanat, du savoir-faire, des nouvelles technologies et de l'habitat, un tour d'horizon des secteurs d'activités qui font le cœur économique de la Corse. C'est donc tout naturellement que notre agence a souhaité participer à cette rencontre.
This is an opportunity for us to present to the largest number of all our offer in the field of luxury real estate with exceptional properties, from the villas to rent the feet in the water up to beachfront properties and land for sale.
But also more particularly two new large-scale real estate programs: Sognu Di Cala Rossa and Arsella terraces that we are delighted to introduce to our customers.
This fair is also the moment for everyone to meet after a summer season always very dense on the island, to go from one booth to another, taste products from island production, discover the innovative companies of the island, and simply for pleasure meet the island contender for the Miss France contest.